Lesson Guidelines
*NEW CLIENTS* I recommend you sign up for a single lesson and see if you like my style. Do I speak your language and most important am I listening to you? The results will help you answer these questions.
Research has shown that people obtain the results they desire when they have a clear goal in mind. A goal creates an intention and this in turn focuses peoples' attention. During a coaching session you will educate me on what it is you want. I will educate you on what you are currently doing, what I think you can physically do at that time and what you need to do to achieve your goals.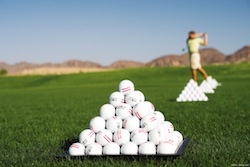 I provide coaching to students on the short game, the full swing, on-course management, the mental game and fitness. At a coaching session I will evaluate your current equipment and if necessary make recommendations for alternative equipment. Equipment changes are only required if we determine it is preventing you from reaching your goals. When I feel it will help the student achieve his or her goals I will use video.
And lastly, I make every effort to make the coaching sessions fun!
Methods of Payment:
Cash or check preferred. Credit cards are accepted.
---